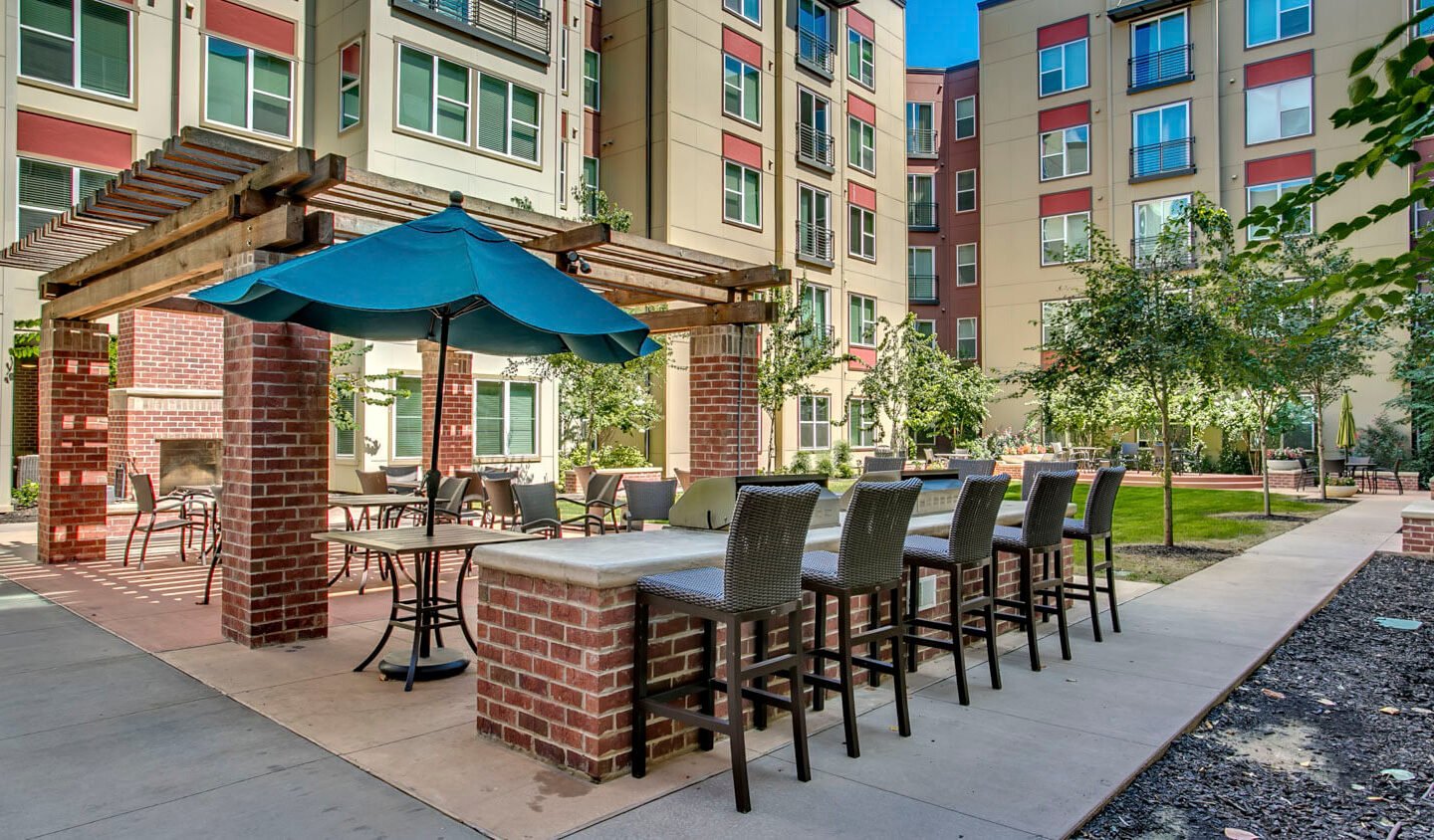 Amenities
Elevate Every Moment
---
Tailored for Excellence. Crafted for Comfort.
LUXURIOUS LIVING AT THE LOFTS
Exceptional Amenities. Unrivaled Residences.
---
At the heart of The Lofts lies a serene retreat: a set of two resort-style pools complemented by a dedicated lap pool, inviting residents for a refreshing dip. Picture yourself unwinding on in-pool islands, while multiple fire pits nearby provide the perfect ambiance for evening relaxation.
As you bask under the sun, the 90″ flat screen TV in the pool area ensures you stay entertained, while the adjacent entertainment room and outdoor caves offer alternative spots for fun. The sand volleyball court? It's there for the athletic spirits and the playful hearts alike.
For the health and wellness enthusiasts, our 24-hour fitness center boasts state-of-the-art equipment, with a dedicated yoga and Pilates room ensuring a holistic approach to physical well-being. After a vigorous workout, the sauna and steam rooms beckon for a rejuvenating experience.
Every student's convenience is prioritized with our 24-hour computer lab offering free printing, well-appointed study rooms, and the added perk of roommate matching. The Lofts' 24-hour clubhouse with a bar serves as the community's heartbeat, fostering connections and lasting memories. And for those who want a glowing tan without the sun's commitment, stand-up tanning beds are at your service.
At The Lofts, every detail is designed for an unparalleled living experience, from our free garage parking and online payment options to the added security of on-site courtesy officers. And, for our pet-loving residents, we proudly offer a pet-friendly environment, ensuring every member of your family feels right at home. Welcome to The Lofts – where luxury meets convenience and community thrives.
Each apartment boasts hardwood-style flooring, sophisticated pendant lighting, and panoramic views overlooking our serene pool and courtyard. With individual leases, inclusive amenities like cable and internet, and a washer and dryer in every unit, we prioritize your comfort. Whether you opt for our bedroom furniture packages or enjoy the modernity of our common area furnishings, you'll find yourself immersed in a space both luxurious and functional.
LAYOUTS AS UNIQUE AS YOU
Refined Student Living
---
Experience the pinnacle of student living in Tuscaloosa near The University of Alabama at The Lofts at City Center. Our offerings range from two, three, and four-bedroom multi-tiered and chic loft-style apartments. Enjoy the benefits of individual leases, a tailored roommate matching service, and inclusive cable and internet. Every bedroom assures privacy with its own bathroom, and our living rooms are furnished for your convenience.
Two-Bedroom
---
2 Plans Available
Private Bedrooms
Private Bathrooms
Fully Equipped Kitchen
Common Area Furniture Included
Washer and Dryer in Every Unit
Furnished Living Room Included
Bedroom Furniture Packages Available
Hardwood-Style Flooring
By-The-Bed Leases
Pendant Lighting
Views Overlooking Pool and Courtyard
Alarm System in Every Unit
Washer and Dryer in Every Unit
Cable and Internet Included
Pet-Friendly
Roommate Matching Available
View 2 Bedrooms
Three-Bedroom
---
1 Plan Available
Private Bedrooms
Private Bathrooms
Fully Equipped Kitchen
Common Area Furniture Included
Washer and Dryer in Every Unit
Furnished Living Room Included
Bedroom Furniture Packages Available
Hardwood-Style Flooring
By-The-Bed Leases
Pendant Lighting
Views Overlooking Pool and Courtyard
Alarm System in Every Unit
Washer and Dryer in Every Unit
Cable and Internet Included
Pet-Friendly
Roommate Matching Available
View 3 Bedrooms
Four-Bedroom
---
3 Plans Available
Private Bedrooms
Private Bathrooms
Fully Equipped Kitchen
Common Area Furniture Included
Washer and Dryer in Every Unit
Furnished Living Room Included
Bedroom Furniture Packages Available
Hardwood-Style Flooring
By-The-Bed Leases
Pendant Lighting
Views Overlooking Pool and Courtyard
Alarm System in Every Unit
Washer and Dryer in Every Unit
Cable and Internet Included
Pet-Friendly
Roommate Matching Available
View 4 Bedrooms